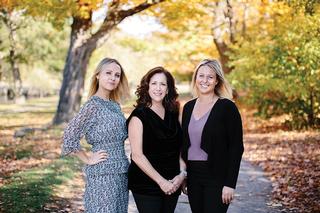 About Michele Friedler Team
About Michele Friedler Team
The Michele Friedler Team consistently ranks as one of Hammond Residential's premier real estate teams, serving the Greater Boston area with more than thirty years of combined experience. The Team offers unparalleled high-quality, full-service representation for their buyer and seller clients alike. Clients choose to work with the Michele Friedler Team because of their integrity, professionalism, and knowledge of the markets they serve. They bring positive energy, high ethical standards, and enthusiasm to every transaction and value each relationship. Michele's team is honored to have a strong following of past clients that return again and again for the dependable and trusted service they know they can count on. Please call upon us for any of your real estate needs.
From 2018 - 2020, the Michele Friedler Team was recognized by Realogy Brokerage Group (RBG), Hammond's parent company and the largest real estate brokerage in the United States, for being in the top 1% of RBG Agents Internationally. RBG's President and CEO noted, "Your hard work, professionalism and steadfast commitment to your clients, along with your ability to excel in an ever-changing market, have made you stand out among your peers."
ABOUT MICHELE FRIEDLER, SENIOR ASSOCIATE
Consistently ranked as one of the top real estate agents in the Greater Boston area, servicing Brookline, Chestnut Hill, Newton, Boston, and surrounding communities, Michele is known for her expert marketing strategies, attention to detail, and personalized service as an effective negotiator.
Michele holds the designations of REALTOR®, SRES®- Senior Real Estate Specialist and CLHMS- Certified Luxury Home Marketing Specialist. From 2018 -2020, the Michele Friedler Team was recognized by Realogy Brokerage Group (RBG), Hammond's parent company and the largest real estate brokerage in the United States, for being in the International President's Premier - Top 1% of RBG Agents Internationally. Michele achieved recognition by Boston Magazine as a Real Estate Top Producer 2020. A testament to her commitment to providing excellent service and full attention to the needs of her clients is evident by the loyal following Michele has maintained for nearly thirty years.
Michele works with her clients using creative methods to maximize the value of each property she sells. Whether it is advice on "staging" a home, helping to arrange for minor repairs or providing guidance through a large construction project, she brings positive energy from beginning to end. Michele makes it her business staying informed and supportive on important community issues, enjoys her involvement with her favorite charities as well as fundraising for many non-profit organizations.
ABOUT MARSHA MARCHANT, SALES ASSOCIATE
For over twelve years, Marsha Marchant has helped her clients live out their best home buying and selling ventures. Together, Marsha and her seller clients write the script for a masterful presentation of their property and a strategy for the most impactful sale. Likewise, with her buyer clients, she patiently and tactfully searches for the best investment their dream can buy. Right from the start, Marsha proudly acts with integrity that goes far beyond the transaction and propels her clients' experience from stressful to extraordinary.
Marsha started her real estate career in the midst of the financial crisis of 2008. It was an opportunity to gain knowledge and traction when many experienced agents were turning away from real estate. Mentored by an industry veteran, she welcomed the challenges of a struggling real estate market, absorbed paramount experience, and found her niche.
Marsha's approach is relationship first! Every client's plans and goals become her top priority. With a background in home renovations, maintenance, and design -- she has served as the general contractor on extensive renovations of her own homes and assisted clients in their property endeavors -- Marsha consistently delivers on her unfaltering commitment to secure the best outcome for her clients.
An alumna of Brookline's Driscoll School and a graduate of Newton North High School, Marsha and her husband, a well-known local real estate attorney, are raising three school-age daughters and consistently give back to various animal charity organizations. While Newton and Brookline are the primary focus of Marsha's real estate practice, she has expert knowledge of other communities in Greater Boston, particularly Weston, Wellesley, Westwood and Needham.
ABOUT EMILY FINK, SALES ASSOCIATE
A lifelong avid Bostonian, Emily Fink has called Greater Boston her home for over thirty years. Born and raised in Wellesley, Emily has also lived in the South End, South Boston, Brookline, currently resides in a condo she owns in Boston with her husband.
She recently joined the Hammond Residential Chestnut Hill office as part of The Michele Friedler Team, a team with a combined thirty years of residential real estate experience. Prior to joining Hammond, Emily worked in marketing at Keurig Dr. Pepper and in product development at Velcro. She has earned her MBA with honors from Babson's F.W. Olin Graduate School of Business in Wellesley and is a graduate of Trinity College in Hartford, Connecticut. She also attended The Winsor School and graduated from Wellesley High School.
In addition to real estate, her passions include celebrating Boston sports championships, spending time with her two dogs and exploring the restaurants of Greater Boston. With a deep market knowledge of Boston and its suburbs and a love of helping people navigate the complicated process of real estate, Emily looks forward to helping you. Contact Form
Click below to see a sampling of the current offerings being marketed by the Michele Friedler Team:
229 Grove Street, Chestnut Hill
210 Nahanton Street #409, Newton
41 Mt. Vernon Street, Brighton
360 West 2nd Street #13, South Boston
CLOSED
1731 Beacon Street #605, Brookline
810 West Roxbury Parkway, Brookline
210 Nahanton Street #522, Newton
209 Reservoir Road, Chestnut Hill
339 Russett Road, Chestnut Hill
358 Russett Road, Chestnut Hill
Real Estate Listings