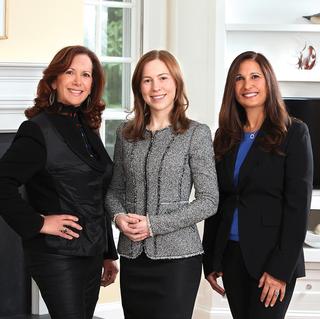 About Michele Friedler Team
The Michele Friedler Team consistently ranks as one of Hammond Residential's premier real estate teams, serving the Greater Boston area with more than thirty years of combined experience. The Team offers unparalleled high-quality, full-service representation for their buyer and seller clients alike. Clients choose to work with the Michele Friedler Team because of their integrity, professionalism, and knowledge of the markets they serve. They bring positive energy, high ethical standards, and enthusiasm to every transaction and value each relationship. Michele's team is honored to have a strong following of past clients that return again and again for the dependable and trusted service they know they can count on. Please call upon us for any of your real estate needs.
In 2018, the Michele Friedler Team was recognized by NRT, Hammond's parent company and the largest real estate brokerage in the United States, for being in the top 2% of the firm's 50,000 agents nationwide. NRT's President and CEO noted, "Your hard work, professionalism and steadfast commitment to your clients, along with your ability to excel in an ever-changing market, have made you stand out among your peers."
ABOUT MICHELE FRIEDLER, SENIOR ASSOCIATE
Consistently ranked as one of the top real estate agents in the Greater Boston area, servicing Brookline, Chestnut Hill, Newton, Boston, and surrounding communities, Michele is known for her expert marketing strategies, attention to detail, and personalized service as an effective negotiator.
A testament to her commitment to providing excellent service and full attention to the needs of her clients is evident by the loyal following Michele has maintained for nearly thirty years.
Michele works with her clients using creative methods to maximize the value of each property she sells. Whether it is advice on "staging" a home, helping to arrange for minor repairs or providing guidance through a large construction project, she brings positive energy from beginning to end.
Michele makes it her business staying informed and supportive on important community issues, enjoys her involvement with her favorite charities as well as fundraising for many non-profit organizations.
ABOUT DAKOTAH BENSON
Dakotah is passionate about Boston. She understands what makes this city tick. Born and raised in Brookline, she has since lived in various parts of Boston and Cambridge.
Dakotah's love of people and caring disposition led her on a path to become a registered nurse. After graduating from nursing school from Simmons College in Boston and working at various medical institutions in the Boston area, she soon came to realize that her calling was to follow in her father's footsteps and work in real estate.
Her dynamic personality, her love for helping people, and her immense knowledge of the greater Boston area made for a natural transition to selling real estate.
Dakotah thrives on connecting people and properties. Her hobbies include interior design, food, and running. In her free time Dakotah enjoys taking care of her two rescue dogs Prince and Hayani.
ABOUT KAREN B. MITCHELL
Karen has lived in Newton since 1994. Her passion for real estate and helping families find the best homes to meet their needs began more than twenty years ago when she worked in a friend's real estate leasing/management firm in Boston. Over the years she has continued to develop her real estate skills through helping friends to buy, sell, and stage their homes throughout Newton and Cape Cod.
Karen brings to her real estate practice an attention to detail, exceptional organizational skills, as well as strong interpersonal and communication abilities that she has honed through her eight years as a STOTT-certified Pilates instructor and personal trainer at Healthworks Fitness for Women in Chestnut Hill.
Her years spent in the biotech industry as a process development scientist taught her to have a level of focus, accuracy and discipline that she brings to every client she works with. Karen loves helping people. Her passion, energy, and positive outlook will serve her buyer and seller clients well.
She has an MS in Biology, Immunology from University of Massachusetts and a BS in Biology, Chemistry minor, also from University of Massachusetts. Karen loves dance; she studied classical ballet for 17 years in Boston and at The School of American Ballet at Lincoln Center, NYC. In her free time she enjoys cooking, fitness, boating, music, and theater.
Click below to see a sampling of the current offerings being marketed by the Michele Friedler Team:
339 Russet Road, Chestnut Hill
358 Russett Road, Chestnut Hill
CLOSED
Real Estate Listings